Search results
Early Childhood and Disability, Some Preliminary Reflections
digital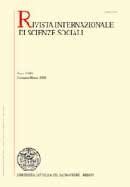 format:
Article
| RIVISTA INTERNAZIONALE DI SCIENZE SOCIALI - 2009 - 3
The importance of early investment on disabled children is discussed with reference to the social model of disability, following the mainstreaming approach of discussing issues related to disabled children within the general context of issues related to children. Data on child early education and evidence on its effects on child development and achievements are presented, emphasizing both cognitive and non cognitive results; the relevance of both these aspects is stressed for the social inclusio of people with disabilities. Government involvement in the early education of disabled children is advocated both on efficiency and on distributional grounds, as households with high time preference rates are likely to under invest in the human capital of children with disability, with subsequent individual and social losses. A picture of the different concern of international institutions for early childhood disability is drawn, and the delay in identifying disability in Italy is shown. Key words: Human capital, Economics of the handicapped, Childcare. JEL Classification: J13, J14.
Part-time Work and Wage Penalty Trend among Italian Women
digital
format:
Article
| RIVISTA INTERNAZIONALE DI SCIENZE SOCIALI - 2008 - 2
This paper studies the evolution of the full-time/part-time wage differential among Italian women for the period 1993-2004. A generalized Heckman selection model is applied to estimate the wage equations, controlling for endogeneity in the second step. An observed part-time wage penalty is found. However, using the Oaxaca decomposition technique we actually find a (decreasing) wage premium for part-timers. This can be explained either in terms of over-payment of given characteristics or in terms of the values of the discrimination and the selection components. The individuals' choice concerning their own type of contract appears to be important in determining the sign and the extent of the wage gap.
Problematiche inerenti all'inserimento lavorativo dei disabili, con particolare riferimento alla recente produzione legislativa
digital
format:
Article
| RIVISTA INTERNAZIONALE DI SCIENZE SOCIALI - 2004 - 3
Italy; the part of it which deals with the employment of the disabled is critically discussed in this article. Attention is drawn on the lack of clarity and on evident inconsistencies within the legislation itself. A comparison with previous (1999) legislation shows how the rights of the disabled have now become weaker, especially with respect to rules about placements, threatening the still existing principle of compulsory hiring. Particularly questionable appears the institution of agents contracting out jobs to firms which, if applicable to the disabled as well, is likely to reduce the chances of employment of the severely disabled. Discrimination, both by employers and by colleagues is discussed, and more attention to proper evaluation of job potential and to difficulties faced in the job environment is advocated. An example of good practice is described.