In Search of Good Economics. A note on Luigi Lodovico Pasinetti, «Keynes and the Cambridge Keynesians»
digital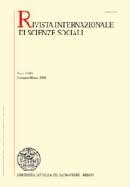 Ebook format Pdf readable on these devices:
This paper analyses Luigi Pasinetti's evaluation of the meaning, importance and outcomes of the Keynesian revolution and the role played by the most important of the Cambridge Keynesians; it also considers the results of his attempt to complete John Maynard Keynes' and Piero Sraffa's elaboration, introducing the idea of a «natural economic system». In particular some of Pasinetti's theories concerning the role of economics together with the other social sciences in leading to an understanding of production and distribution in industrial and post-industrial society, and in establishing scientific policy guidelines, are discussed.
Key words: Distribution and development, criteria of rationality in social choices, separation theorem, third way. JEL Classification: B290, B410.
Browse the archive
Recent issues
Available online
2010

issues