RIVISTA INTERNAZIONALE DI SCIENZE SOCIALI - 2005 - 3
digital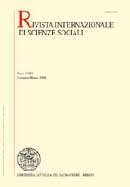 Ebook format Pdf readable on these devices:
Articoli
Countrymetrics: valutazione della performance economica e tecnologia dei paesi e posizionamento dell'Italia
by Mario Coccia
pages: 36
€ 6.00
Abstract ∨
International markets crises following recent events such as terrorist attacks, wars in the East, growing financial globalisation and integration raised an interest in the analysis of country risk among industrialised countries as well as developing nations. This paper develops new measures of economic and technological performances of countries by means of a systemic approach based on combinations of several indices. A comparative analysis using data from 51 countries for the period 2000-2002 identifies the countries with high/low performances. The results are substantially stronger and quicker than those obtained by conventional indicators. Moreover, results show Italy's low economic and technological performances with respect to other developed countries.
Learning to Coordinate whit Heterogeneous Belief-Formation
by Carsten Krabbe Nielsen, Takako Fujiwara-Greve
pages: 26
€ 6.00
Abstract ∨
Experiments show that players with identical information and objectives have heterogeneous behavior rules. We formulate how different beliefs arise from the same information and analyze how heterogeneous belief formation affects learning outcomes of two-person two-action coordination games. With heterogeneous belief formation, it is possible to generate enough diversity in actions for eventual coordination, which is impossible under the ordinary adaptive learning model. When each player uses the same function to compute a belief over time, diversity of belief formation functions within or across populations is suffcient for convergence to coordination. When players choose belief-formation functions as well as actions over time, diverse adjustment of belief-formation functions is suffcient. A risk-dominant equilibrium is more likely to emerge than a payoff-dominant equilibrium since the former is more likely to be predicted by the players.
Multi-Agent and Common Agency Games with Complete Information: A Survey
by Alberto Galasso
pages: 20
€ 6.00
Abstract ∨
This paper provides a general overview of the literature on multi-principal multi-agent games with complete information. The analysis compares standard models with more recent results and reviews possible applications of these games.
Are Human Rights Becoming Burdensome for Our Economies? The Role of Slavery-Like Practices in the Development of World Economics and in the Context of Modern Society
by Tiziana Luise
pages: 18
€ 6.00
Abstract ∨
The article analyzes some recent episodes concerning slavery-like practices and human trafficking reports. The problem seems particularly crucial in the industrialized world where the flow of illegal migrants is directed. After a summary of the international covenants concerning slavery and its unethical aspects, a sociological explanation of the phenomenon will be proposed. Besides the obvious economical benefits of disposing of low-wage workers in a highly competitive environment, we will try to understand the «social functions» of slavery today. The structure of modern society is the result of a long historical evolution. Yet, modern society is also full of contradictions. Social stability and cohesion are based upon a hierarchical organization in which some individuals or groups occupy the lowest levels of the social ladder. Today, this position is covered by the «new slaves». In this perspective, slavery appears to be both «necessary» and «compulsory» in enhancing social unity and identity.
Point-System Driving Licence: Was it Really Necessary?
by Carlo Rosa
pages: 10
€ 6.00
Abstract ∨
In Italy, in July 2003, a new highway code came into force. Among other things, it posits a «revolutionary » point-system driving licence. This paper analyses optimal punishment schemes and shows that a simpler policy intervention, such as a dynamic increase in the size of the pecuniary sanctions, could have induced the same outcome.
Recensioni
The Changing Firm. Contributions from the History of Economic Thought (M . PIVA)
by M.E.L. Guidi, D. Parisi
pages: 10
€ 6.00
Capitale sociale e individualismo (D. SCHILIRO`)
by Robert D. Putnam
pages: 6
€ 6.00