Vita e Pensiero
Table of Annual Issues
new
digital
Employment and Depressive Symptoms in Italy: the Need for Policy Measures
new
digital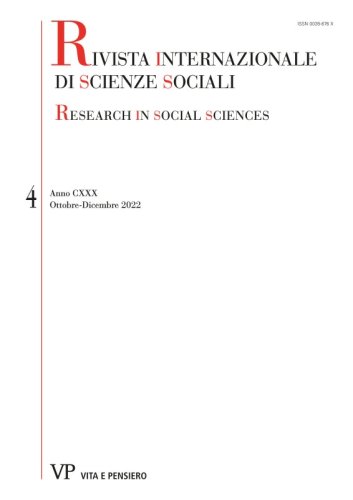 This paper investigates depressive symptoms among employees using Italian microdata from the second wave of the European Health Interview Survey. The results show that in Italy, employees with permanent and full-time work suffer less from depressive symptoms than employees without permanent and full-time jobs...
Global Supply Chains and the EU in the Pandemic Era
new
digital
The Covid-19 pandemic had already changed the course of world history, opening up a number of scientific and political debates, when the war in Ukraine erupted. With the help of a broad literature, we go into depth about how much these events will influence the reshoring process that was already under way before the pandemic, and more generally the development of global supply chains (GSCs), especially in the EU...
Financial Literacy, Women's Empowerment and Food Safety Among Farming Households in Oyo State, Nigeria
new
digital
Financial literacy, women's empowerment and food safety are important to the eradication of poverty, malnutrition and the economic development of a nation. This study examined financial literacy, female empowerment and food safety among farming households in Oyo state, Nigeria. The mean age of women in the study area was 42 ± 10 years, with the majority having a primary-level education...
RIVISTA INTERNAZIONALE DI SCIENZE SOCIALI - 2022 - 3
digital
Terzo fascicolo del 2022
Outlines of New Economic Paradigms. Answers of the Social Doctrine of the Church to the Meaningful Questions of Our Time
digital
The world is often shocked by economic, financial, environmental and health emergencies that require global responses. A holistic approach to reviewing development models is needed, one that does not give up healthy growth and avoids an unequal and unregulated capitalism. A unique and organic path can be found within the social doctrine of the Church...
A Quantitative Evaluation of INDUSTRIA 4.0 Through Simulation of QUEST III Italia
digital
This paper provides a quantitative macroeconomic evaluation of the national INDUSTRIA 4.0 plan, the set of Industry 4.0 policy measures implemented by the Italian government. The evaluation is performed using the European Commission's endogenous growth model QUEST III with R&D, adapted to Italy. Innovation of process- and skill-biased technical change characterizes the fourth industrial revolution and determines human capital formation and the spillover of knowledge accumulation...
Ordinalism and Cardinalism Re-Examined
digital
Using the concepts of category theory, we re-examine ordinalism and cardinalism. We illustrate why cardinal and ordinal assumptions constitute two levels of measurability, but other cases may exist...
Down with "Liberismo"?
digital
This paper is a discussion of a new book by Andrea Boitani entitled Le illusioni del liberismo. "Liberismo", in the present day, is more or less synonymous with the American "neo-liberalism"...
RIVISTA INTERNAZIONALE DI SCIENZE SOCIALI. Abbonamento annuale 2023
digital
Abbonamento annuale a RIVISTA INTERNAZIONALE DI SCIENZE SOCIALI
RIVISTA INTERNAZIONALE DI SCIENZE SOCIALI - 2022 - 2. A Special Issue on "Economics of Disability"
digital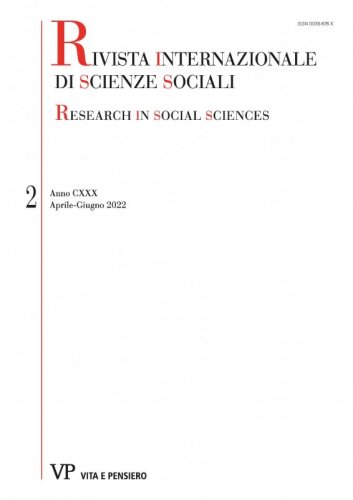 Secondo fascicolo del 2022
Browse the archive
Recent issues
Available online
2023

issues