Vita e Pensiero
RIVISTA INTERNAZIONALE DI SCIENZE SOCIALI - 2019 - 3
digital
Fascicolo 3 del 2019
Cost of Raising Children, Child Poverty and Fertility Decisions
digital
This study estimates the cost of raising children, which we also term the ''price'' of children, in the context of the collective theory of the household following Lazear and Michael's (1988) method, not yet applied in the literature.
No Role for Conscious Consumer in the Battle against Counterfeiting. A Socio-Cultural Approach
digital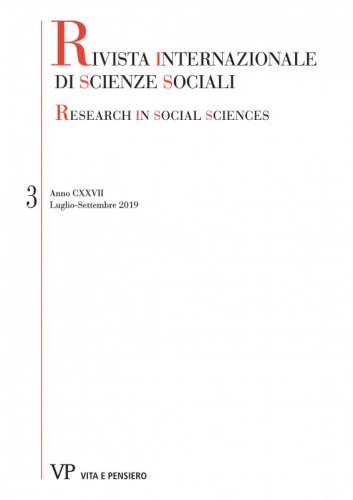 Counterfeiting is a constantly growing phenomenon with economic, social and political implications. Considering consumers' awareness, the counterfeit market includes two sub-markets, the deceptive market and the non-deceptive market.
Education, Mismatch and Unemployment
digital
We study an economy where the labour market is plagued with search imperfections and is segmented along a set of professions.
RIVISTA INTERNAZIONALE DI SCIENZE SOCIALI. Abbonamento annuale 2020. Personal Italy print and digital subscription
digital
Abbonamento annuale a RIVISTA INTERNAZIONALE DI SCIENZE SOCIALI.
RIVISTA INTERNAZIONALE DI SCIENZE SOCIALI - 2019 - 2
digital
Secondo fascicolo del 2019
G. Sciortino, Rebus immigrazione
digital
Is immigration necessary for Italy? Is it desirable?
digital
A peculiarity of the Italian socio-economic model is the pathological coexistence of migrants undertaking low value-added activities with a large number of natives out of employment (particularly in the South).
Warfare, Economic Development and Well-being
digital
The paper sets out to analyse the relation between military spending, Warfare and some measures of Well-being, in the current context of globalisation and convergence processes.
The evolution of fiscal policy theory and the Eurozone
digital
This paper is devoted to fiscal policy theory and to how its evolution influenced the policy principles implemented from the end of the WWII to nowadays.
Coping with Turbulent Economic Times: Establishments' Employment Adjustment Practices by Gender and Contract Type
digital
Using a representative dataset of Spanish establishments and the quasi-experimental nature of the Great Recession, which started with the unexpected fall of Lehman Brothers, we examine how employers' labour practices adjust to economic shocks.
Browse the archive
Recent issues
Available online
2022

issues